You'll receive the surveys by email. You can also find them on your profile (on the

icon in the top right margin) in the Surveys section: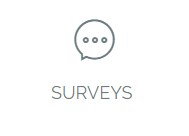 But if you have any pending surveys, we'll send them to your email, as well as to the Nicequest app. That way you won't need to keep checking - if you have any, we'll let you know.
So that in the meantime, you can get on with your day :)